about the project and who we are
The text is long, but it is a good opportunity to know a little more about me.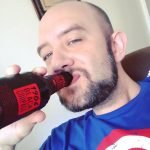 I am Roberto Wolf, aka Bob, born in São Paulo, but German heart and citizenship.
Photography and food lover, likes to cook while taking good beers.
I am a workaholic like any systems developer. Soccer shirts collector, amateur aspiring cyclist and puzzles fan!
Since childhood thrilled me with the family car trips, leaving blurred the rear windows of Opal Commodore 1978 my father so much that breathing euphoric trying to keep all landscape changes on the way to new cities and even other states.
Up to 20 years had never travelled out of my country.
Came to work a short 2 day trip to Buenos Aires.
It would also be the first time that a plane would rise.
After many presentations and meetings, I finished my work tasks missing five hours to return to Brazil.
With these few hours to brave the city, took 4 full movie 36 poses with my powerful analog Kodak camera and hoped that the photos do not burn and were revealed with quality.
I came back different from Argentina. Despite the very similar language and the relative ease of communication, were many new things in such a short time.
Customs, cuisine, landscapes, different products on supermarket shelves and even TV shows.
If we had many differences so close (in less than 1600 km away), then imagine how it would be the other side of the planet?
I discovered then that my dream was to perform aaround the world!
Since then, the main work was to transform this plan into dream.
Also in 2000 I designed this plan had a deadline for completion: 2017.
After all, I had other goals that seemed important at the time: buy a new car and a large apartment, achieve a high position in a multinational company and be a recognized professional.
With the shock of the loss of a friend only 30 years old and full of dreams, I felt an obligation to give a real meaning to life and cherish the time that we are available on flat ground.
Death is like a sailboat, outgoing, bringing love, memories, experiences ...
But although has crossed the horizon, not gone.
We just lost sight of him.
It was a great moment of reflection and transformation behavior.
I changed my lifestyle and I ran behind some achievements that would help me on the journey:
I set up my company (ativata.net) And thus, reduces the insane pace of work (although that means undertaking work 100 times more than an official)
I lost weight almost 60 kg with the help of surgery and returned to an old love (the bike)
Decreases procrastination and with much help from my sister, got German citizenship (before the 7 × 1)
More health, valuing moments with family / friends and focusing on positive things also changed my relationship with money.
I noticed that the world was a "rat race" of consumerism: ultra aggressive marketing strategies coupled with the credit facility to make you buy more goods.
As if you were excluded from society if he had the car of the year in the garage and a 60-inch TV in your living room.
I began to read and study hard: planning, investments, languages.
Relaxed reading inspiring stories of others who have traveled around the world, either by plane, car, bicycle or on foot.
I met warlike people but easy laughter and focused on doing good to others.
I understand a little more about project / social tourism, volunteering, or WWOOF how could donate my time to help a cause or who really needs.
I started to intensely enjoy the simplicity of life, and found that the greatest wealth you can achieve is to put a smile on the face of someone you love with just a hug.
Throughout all these years and learning, I focused my planning to achieve the goal in 2017 (the magic number as he had dreamed nearly 20 years ago).
Novo Cálculo da Rota
And now the season 2017/2018, the embryo of this dream is here.
The baptized as "Novo Cálculo da Rota".
Anyone who has used the Waze to navigate, should be familiar with this term (New Route Calculation). 🙂
The name is the motto that we should always be on the move, looking for new things!
The eagle and its flight are representations offreedom, Which I believe is one of the greatest assets we can have in life.
This blog will serve almost like a diary.
I will publish here as do our planning and while traveling want to register the scripts so it can be useful to others who wish to go on the road too!
Make sure the fortune you seek is the fortune of which need.
Life is like riding a bicycle: you have to be constantly moving to maintain balance.
Bartholomew Wolf
Better known as Barthozin, this friendly Pug is not a pet, he is part of the Wolf family.
And now this blog, won a representation as alter ego, to be the gastronomic and movie critic! laughs
See you!
A big hug!